Two big things happened during the last week of August:
Hurricane Harvey dumped 33 trillion gallons of water on our region, flooding out huge swaths of Houston and nearby areas.
We finally got our hands on an LG Chem Resu solar battery.
Appropriately, Harvey has been hogging the spotlight recently. But for us in the solar business, the real-life availability of the Chem Resu, which has been "in transit" for what seems like a lifetime, is big news.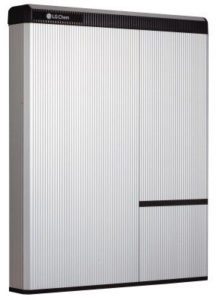 For years, running solar off-grid or during a power outage has been difficult and expensive. It required a host of additional hardware components, a huge stack of lead acid batteries, and some really fancy wiring. We in the business have known all along that whoever could figure out how to make a self-contained, cost-effective backup solution would change the solar world as we know it. And LG has done it. And we can get them!
Enough power–9.8 kWh–to run your most important loads all night
Recharges whenever the sun is shining
Automatically becomes your primary power source when the grid goes out
Unlike a gas generator, can be mounted up high, inside the house
Compact size–29.3″ x 35.7″ x 8.1″
Bolts to the wall for safety, looks really cool
Compatible with innovative, StorEdge inverter (made in USA), which enables panel-level monitoring
10-year performance warranty from manufacturer
KW Solar is currently installing LG Chem Resus with new PV systems, and retrofitting existing ones. To get your own, choose an installation, or call us any time at 832-844-5790.