KW Solar is proud to announce that we are now Tesla Powerwall Certified Installers!
In the aftermath of Hurricane Harvey, Houston residents and folks along the Gulf Coast have been in search of a storage system capable of reliably powering through major storms.  That system is finally here.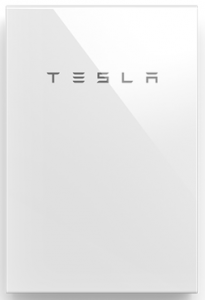 Far more than just an energy storage system, Tesla Powerwall enables any solar panel system to provide electricity to your home even when the grid is down.  Highlights include:
Enough power–13.5 kWh–to run your most important loads all night
Recharges whenever the sun is shining
Automatically becomes your primary power source when the grid goes out
Unlike a gas generator, can be mounted up high, inside the house
Compact size–44″ x 29″ x 5.5″
Bolts to the wall for safety (and looks really cool)
Compatible with any solar panel system (or no solar panel system)
10-year warranty
KW Solar is currently installing Tesla Powerwall with new PV systems, and retrofitting existing ones. To get your own call us any time at 832-844-5790.